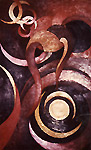 Born 1944 in France, Jacques Lucas starts to paint in 1963 ( first work opposite ) while still pushing studies of Art history, which leads him to a job at the Cultural Affairs Ministry. At the same time, he buys an ancient mansion in the region of Rennes which will become with time passing « The Sculpted House ».
Autodidact in the practice of his art, his painting and sculpturing asset authoriting by means of contact with Edouard Pignon and his atelier in « la rue des arts » - Paris -, and with Robert Tatin who is inspiring his first sculptures and paintings.
Starting 1963, he exposes in the region of Poitiers, then Paris (see events). Starting in the 70' and through till the early 80', he is developing a technique of crosswatching subjects and space which remind us the texture of weaving, a technique he also practices at the time. About 1980, he learns traditional sketching by himself. The result is about a hundred portraits and landscape. At the beginning of the 90', his style affirm itself in representations reminding the techniques and materials employed (pastels and crushed pigments, several times overlayed).
In 1995 he leaves « La Maison Sculptée » and installs himself in Nice but coming back 2 or 3 mouth per year.
Starting 1995, the great series of paintings take form ( « Paintings of Text » , « Texture of Sounds » , « Great Black series » , « The Vertebral Blue's » )
Since his installation in the Nice's atelier, creation of about 3000 paintings, suite of large formats: 300x200 on canvas and a many painted books; principal subjects: the human body and animals, their transformations, their combinations, fugitive transcriptions of the real, phenomens of the memory and individual conscience, ideas of the new human mechanism, more adapted to the changing of the worldwide environment.
Since 2006, Muriel Anssens is realizing a complete catalogue at the Museum of Modern and Contemporary Art of Nice.
Since 2008, Jacques Lucas live in the Sculpted House.


2005 serie"grands livres"