In 1968, Jacques Lucas and his wife Marie-France bought a row of houses,

unoccupied and ruins since some decades, situated at Amanlis, 30 km from Rennes, a place called "l'Essart".One year of
Hard work was necessary to make the place habitable.

At the same time, Jacques Lucas meets Robert Tatin, painter and sculptor, who lives near Laval at "La Frênouse". This encounter became decisive in the beginning of "La Maison Sculptée".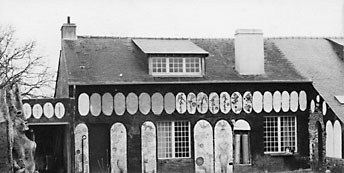 Meanwhile, Jacques Lucas puts up his first sculptures near the house and is painting the facade. During a decade, periods of sculpting take place regularly from the beginning of springtime till the end of autumn. Three fourth of the sculptures which can be seen today were realized between 1983 and 86, a time when Jacques Lucas had the most of free time for his art.
In 1987, he starts an enterprise of stained glass windows at Janzé but the enterprise shuts down in 1992. He leaves temporarily "l'Essart" and installs himself in a painter's atelier in Nice.